Jesus is the greatest person who ever lived …
But what if He had never been born? In our cynical age of unbridled slanders and attacks against the Christian faith, one powerful truth is undeniable. If Christ had never been born, this world would be far more miserable than it is. But most people don't know it.
That's why D. James Kennedy Ministries invites you to partner with us to share Christ and His impact on our world this Christmas! Together, we will make Jesus known by passionately proclaiming the transforming truth of the gospel on our nationwide broadcast platform by airing a powerful new special, What If Jesus Had Never Been Born?
Based on Dr. D. James Kennedy's best-selling book by the same name, it features scholars and experts who investigate the positive impact Jesus Christ has made upon every area of life, including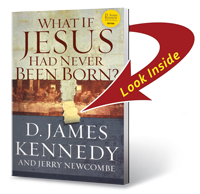 the arts
modern science
education
charity
the sanctity of human life
the elevation of women
and many more
Discover just how much Jesus changed the world …
And help others learn the amazing story of Jesus this Christmas by giving a generous gift to help us proclaim the truth and spread the gospel. As thanks for your kind donation, we will send you a new ministry edition of the book, What If Jesus Had Never Been Born? And if you can give a gift of $100 or more, we'll send the book and two DVDs of the compelling new documentary of the same name. Keep one and give the other to a friend, a pastor, or even a student who is likely only hearing falsehoods about Jesus' impact on our world. The book and DVD, What If Jesus Had Never Been Born?, will ship in mid-December.
Double your impact with our Matching Challenge
Right now, your gift to D. James Kennedy Ministries can go twice as far because of our Hope of the World Matching Challenge. As we approach our year-end and ramp up to make a powerful difference in 2023, any gift you give by December 31st will be matched up to $100,000—having twice the impact.
Make a gift now.
---