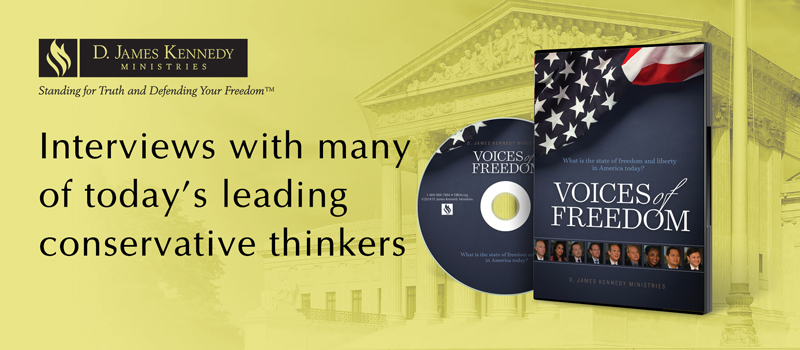 Don't Miss this Exclusive
Ministry Resource
Are you tired of the liberal Left's unrelenting assault on your religious liberty?  If so, you don't want to miss Voices of Freedom, D. James Kennedy Ministries' newest DVD presentation. You'll be inspired and encouraged by these interviews with many of today's leading conservative thinkers:
Gary Bauer
William J. Federer
Brigitte Gabriel
Rep. Mike Johnson
Tony Perkins
Carol Swain
And More!
The courageous men and women in this DVD expose the Left's agenda and counter it's vitriol with the beautiful, God-ordained truths of freedom, justice and liberty for all!  This exclusive offer is our gift to you for your generous donation today – and you can take heart in knowing that your gift will be helping us continue our federal lawsuit against the Southern Poverty Law Center and with the on-going work of this ministry.
We are now in the very expensive and critical discovery phase of the lawsuit and already we've learned enough to know that the SPLC's internal mission is to utterly destroy Biblically-based Christian organizations and ministries like ours that dare to speak out for Biblical values.
Here's a direct quote from SPLC Senior Fellow Mark Potok, "I want to say plainly that our aim in life is to destroy these groups, to completely destroy them."
That is a sobering reminder of the vitriol of the Goliath we are facing. But we believe God is in this. That is why we are so committed to fighting for religious freedom for you, your grandchildren and great grandchildren.  Please, join with us in this battle for Truth with your most generous gift.
We are sorry but this promotion is no longer available.
You will be redirected in a few seconds. If the redirect does not work, please click here