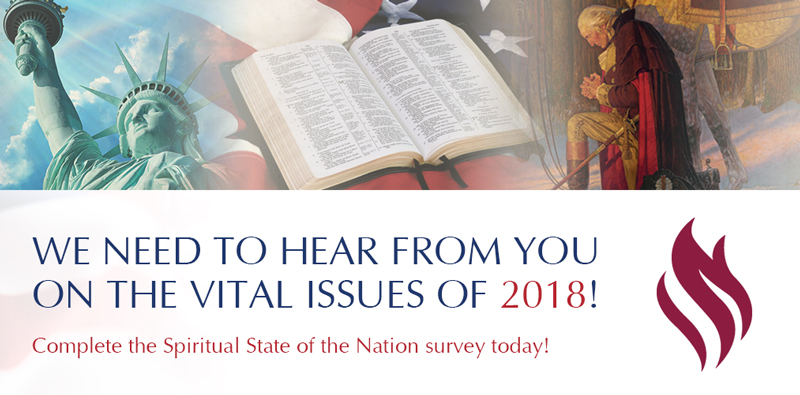 We struck some major blows for freedom in 2017, including filing suit in federal district court against the Southern Poverty Law Center because of their ongoing deceit in categorizing Bible-believing ministries (including D. James Kennedy Ministries) as "hate groups." (The suit is ongoing; be sure to check back with us for updates!)
We also announced our new initiative, the D. James Kennedy Center for Christian Leadership, operated out of our Capitol Hill offices in Washington, D.C., where activity is already beginning.
2018 will be a key election year, and we plan to be more active than ever, standing for truth and defending your freedom. But we need to hear from you on the issues that are most important to you moving forward this year as we formulate our ministry plan for 2018.
Please fill in the information below so that we can send you the 2018 Spiritual State of the Nation Survey. Then simply fill it out, and return it to us as soon as possible. Make your voice heard on the crucial issues of 2018!
We are sorry but this survey is no longer available.
You will be redirected in a few seconds. If the redirect does not work, please click here