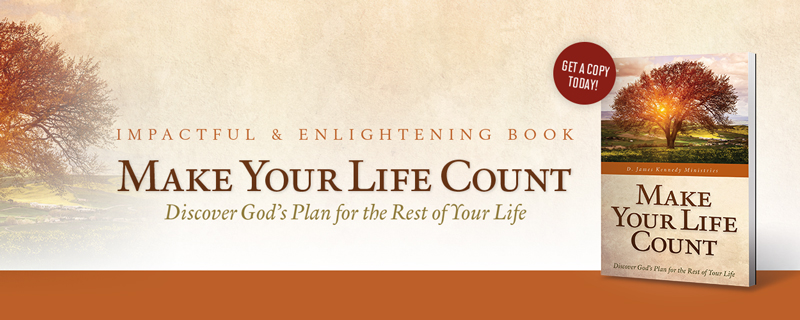 Make Your Life Count
Does your life have purpose? The world has many conflicting answers about what makes a life purposeful, from careers to wealth to relationships to thousands more. But none of these things are truly satisfying. What can give our lives real purpose?
If we believe that God exists and has a plan for our lives, then it should be obvious that He has a purpose for us. Discerning what exactly that purpose is—and how to live in light of it—is a lot more complicated.
That's the question that our book, Make Your Life Count: Discover God's Plan For the Rest of Your Life, explores, with Biblical insight and collaborative teaching from Dr. Frank Wright, Dr. Karen Van Til Gushta, John Rabe, and Dr. Jerry Newcombe.
Make Your Life Count addresses questions like:
How can we know God's purposes and plans for our lives?
How can I make my life truly count?
What are the six spheres established by God that impact my personal life and His plan for me?
How can I align my life with His plan in a world that rejects His sovereignty?
In exploring these topics, Make Your Life Count seeks to lay a foundation upon which you can develop a Biblical worldview, ultimately enabling you to answer the question of how to live purposefully for yourself.
Chapter topics include: God and Man According to the Scriptures, Nature—and Our Discovery of It; The Gift of Work—Our Labor in the Lord, The Family—the Wellspring of Culture and Society, Civil Government and the Bible, and The Church of Our Lord and Savior Jesus Christ. We trust that this book will equip you to answer the great question that author and theologian Francis Schaeffer once famously posed in light of Jesus' lordship over all things: "How shall we then live?"
We'd love to offer this book as our thank you for your generous donation. We hope that it will embolden and encourage you to live the purposeful life to which God has called you for His glory!
We are sorry but this promotion is no longer available.
You will be redirected in a few seconds. If the redirect does not work, please click here