Begin 2021 Celebrating LIFE!
Christians have consistently engaged the cultures of the world with truth—celebrating life and rescuing those being carried off to death and destruction. And our nation's founders declared God, our Creator, has endowed us all with certain inalienable rights—first among these is the right to life. But since Roe v. Wade, this right has been stolen from more than 60 million Americans.
To speak truth on the issue and inspire you to keep fighting to defend preborn children, we are offering some very special pro-life focused resources.
Life: An Inalienable Right: Biblical Reasons for Protecting the Sanctity of Life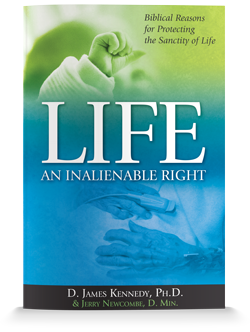 In this powerful booklet, Dr. D. James Kennedy and Dr. Jerry Newcombe address what the Bible says about life in contrast to the materialistic pagan view of life that too often prevails today. This is a wonderful resource to read and pass along to a young adult or high-school-aged child or grandchild who needs to know what the Bible says about abortion and the intrinsic value of human life.
Life: An Inalienable Right is our thank you for your generous donation to help make 2021 the year of LIFE in America!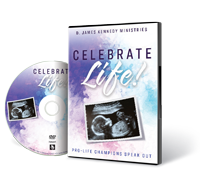 For your donation of $40 or more, receive the book plus the brand-new DVD, Celebrate Life! Pro Life Champions Speak Out.
You will be encouraged and inspired as you hear from leaders of the pro-life movement, including:
Heartbeat bill architect Janet Porter
Pro-life speaker Pam Stenzel who was conceived in rape
Abortion survivor Melissa Ohden
Susan B. Anthony List president Marjorie Dannenfelser
And more
Request these powerful resources now!
---
We are sorry but this promotion is no longer available.
You will be redirected in a few seconds. If the redirect does not work, please click here
[redirect url="https://store.djameskennedy.org/?utm_campaign={utm_campaign}&utm_source={utm_source}&utm_medium={utm_medium}&utm_content={utm_content}" time="10"]