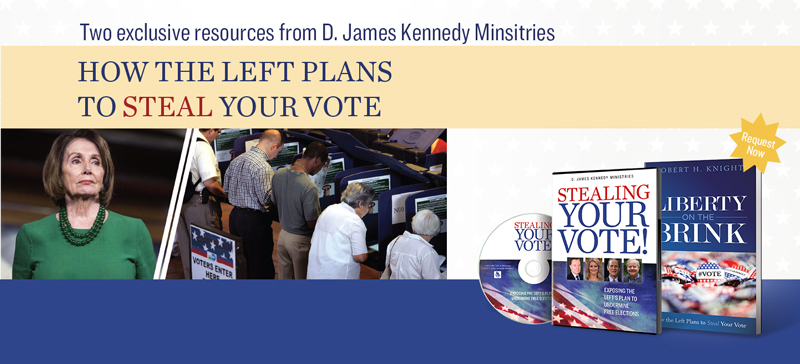 A Huge New Danger
to YOUR VOTE!
The far Left in America wants to conquer the last public place where people can voice their political opinions directly—the ballot box. Their strategy is to:
End Voter ID
Abolish the Electoral College
Allow Ballot Harvesting
Force an entire new system of mail-in voting
And more.
Their ultimate goal is to replace self-government with an all-powerful socialist state—to suppress Christian morality and dictate how we live and what we can say. In short, the Left is trying to snuff out liberty!
Every freedom-loving American needs to be aware of what is happening and equipped to do something about it. To answer this need, we have produced two exclusive ministry resources.
Veteran journalist Robert H. Knight exposes the many threats to free elections posed by un-American, socialist activists in the book Liberty On the Brink: How the Left Plans to Steal Your Vote. Knight also inspires and encourages you, as a patriotic American, to resist intimidation and to restore limited government under God.
Chapters include:
Current Threats
The War on Voter ID
The Left's Money Machine
The Perils of Recounts
The Problem with Ranked-Choice Voting
Grassroots Rebellions and Signs of Hope
And many more.
We will send you Liberty on the Brink: How the Left Plans to Steal Your Vote as our thank you for your generous donation to help us continue the crucial work of this ministry. As you can give a generous donation of $40 or more, we will also include the hard-hitting DVD, Stealing Your Vote! Exposing the Left's Plan to Undermine Free Elections. The DVD includes interviews with Robert H. Knight, Gary Bauer, William J. Federer, Jenna Ellis Rives—a constitutional attorney, and many other compelling experts.
With the Left's efforts to steal your vote plowing ahead at full steam in this election year, it is crucial that you have this information and share it with those in your sphere of influence. It's one way you can help protect our God-given liberty.
Request your timely, ministry-exclusive resources now.
---