Every abortion denies a baby the right to life–the right to grow up, get married and have a family of their own someday. Then there are the tragic consequences for many of the women who have an abortion—sterilization, miscarriages, and guilt. Men too suffer consequences. All while the abortion industry rolls on, raking in more than a billion dollars a year.
Planned Parenthood, the leading abortion provider in this nation, shows they generated more than $1.45 Billion in revenue during the 2017 fiscal year. Much of the revenue was generated from killing 321,384 innocent babies. They are proud of what they do in the name of "choice," "reproductive freedom," and "women's health." But let's be clear—abortion is murder for money.
In the case of Planned Parenthood, it all started with Margaret Sanger, the patron saint of the modern abortion movement. Sanger was on a mission in her day and became "the champion of reproductive rights." But do you know what motivated her and the goal she was seeking? Now, through the explosive must-read book, Killer Angel, you can know the truth about Planned Parenthood's Margaret Sanger. Author Dr. George Grant lays out:
the lies she spread,
the culture of death she championed and shaped,
the racist motivations behind her work,
the evil, ungodly and gruesome legacy she left.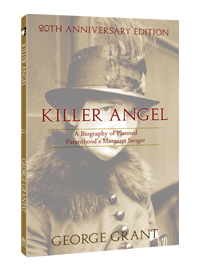 This book will reawaken your heart to the cause of life and sharpen your commitment to the pro-life movement. Killer Anger:  A Biography of Planned Parenthood's Margaret Sanger is our thank you for your generous donation to help us to continue to uphold truth and expose the lies of our culture through our many ministry outreaches.
This must-read book is also an excellent resource to share with others so they too can be informed and better able to act on behalf of unborn children everywhere.
Please join with us in this battle for life with your most generous gift.
We are sorry but this promotion is no longer available.
You will be redirected in a few seconds. If the redirect does not work, please click here