Our nation is in trouble!
America is divided, and our sense of security and well-being is fractured as our faith, family, and freedom are targeted.
But this is no time for Christians to shrink back! God is calling His people to rise and stand for truth in these troubled times, living out our faith in the public square and offering hope to the hopeless.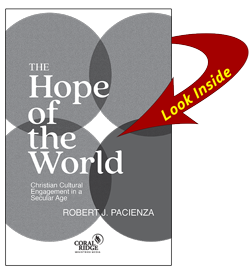 To help you and your family stand firm in this cultural moment, Pastor Rob Pacienza has just released his brand-new book, The Hope of the World: Christian Cultural Engagement in a Secular Age.
 "Although our faith is deeply personal, it is never to remain private," writes Pacienza as he summons today's Church to be the counter-cultural institution it has been for the past two thousand years.
The Hope of the World is an easy-to-read, 96-page "playbook" for living God's Truth and taking a stand for faith in your God-given sphere of influence. You'll even find powerful examples of Christians who have drawn upon their faith and exercised their callings in particular spheres of culture, including
Edith Schaeffer
Tim Tebow
Chuck Colson
And others
Because you are a leader in a National Religious Broadcasters' member organization, we're happy to send you The Hope of the World.
Request your copy now!
---
Sorry. This form is no longer available.