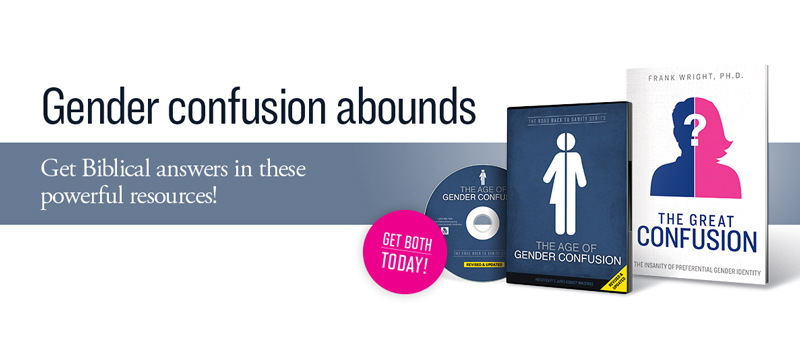 Think you're confused when it comes to the transgender issue? Then imagine living with the notion, "the choice is mine—any choice, any time." Or how about being a kindergartner being told that your "gender identity" may be different than your biological identity. What?
Instinctively most of us know that something is seriously wrong with such notions. But do you know why current government policies and medical practices for treating individuals with gender dysphoria are so dangerous, and how they are threatening our religious freedom? Do you know how to respond to someone who is sexually broken—suffering from "gender identity" confusion? These are some of the questions Dr. Frank Wright tackles in his timely booklet, The Great Confusion. Writing with compassion and Biblical understanding, Dr. Wright provides:
the context of the "gender identity" issue
the factors and misunderstandings driving it
a blueprint for how Christians can provide help for transgender individuals
and more.
We will send you The Great Confusion as our thank-you for your generous donation to help us bring a Biblical perspective to the moral issues facing us today. In addition to the book and for your generous donation of $50 or more, we will also send you the powerful documentary The Age of Gender Confusion on DVD. You'll learn the true agenda behind the gender identity movement—and see a deeply moving true story—of confusion, rejection, brokenness . . . and healing and redemption in Jesus Christ. This is a DVD you'll want to watch and share with others.
Don't miss these two timely ministry resources.
We are sorry but this promotion is no longer available.
You will be redirected in a few seconds. If the redirect does not work, please click here