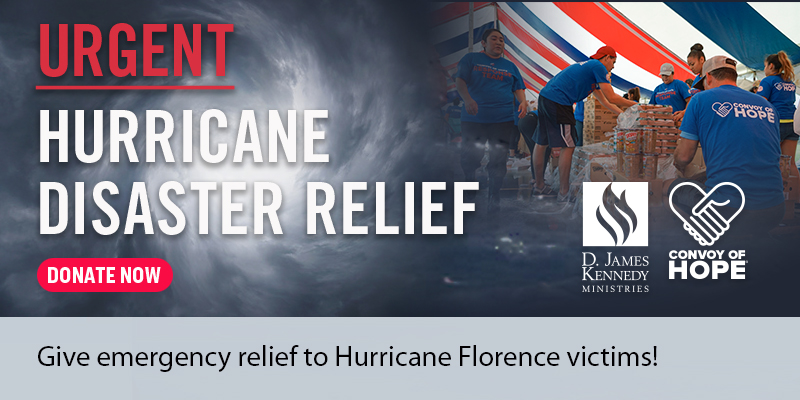 Thank you for your donation!
We deeply appreciate your generous donation to D. James Kennedy Ministries.
You are helping to provide hurricane victims on the East Coast with two truckloads of:
Emergency food and clean drinking water.
Hygiene kits
Clean-up supplies
And more
Their teams are already on the ground — with seven strategic distribution points set up—and are ready to respond to the victims with much needed help and hope.
God bless you for responding in His name. Your compassionate gift will make a tremendous impact.
As you endeavor to live out your faith, we are confident that these resources will help you gain a deeper understanding of important truths and how to apply them to the world around you. And you can find many other helpful—and even life-changing—resources in our online marketplace.
As people of faith, we are living in times of both challenge and opportunity. As a multimedia Christian ministry the mission of D. James Kennedy Ministries is to:
Proclaim the good news of the Gospel throughout the Earth, introducing people to the Person and the redeeming work of Jesus Christ;
Teach and nurture His followers, helping them to grow in grace and in service to Christ and His church;
Equip and encourage believers to live out their faith, making a difference in the world around them;
Defend religious liberty, by helping believers understand America's Christian heritage and by motivating them to lovingly engage the culture with the heart and mind of Christ.
To that end, please be sure to visit DJKM.org and plug in to our robust library of digital, video, audio, and print resources. And please feel free to call us on our ministry Help Line: 866-534-1294.
Thanks again!
Your friends at D. James Kennedy Ministries