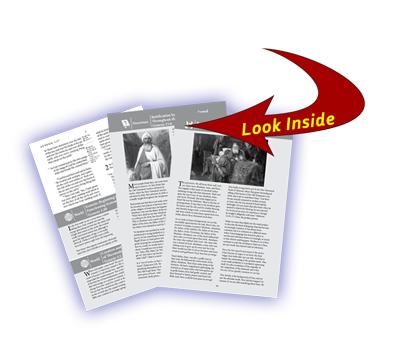 This one-of-a-kind study tool is, as Jennifer Kennedy Cassidy describes it, "like having my father sitting next to you when you read it." It features over 700 of Dr. Kennedy's personal commentaries and notes drawn from his almost 50 years of Bible study and teaching.
There is simply no other study Bible that speaks to the cultural issues of our time like this one. It will equip you to apply biblical truths to the most relevant topics in our society today and is sure to be a go-to study tool for your personal devotional time. The wealth of wisdom and insight in this incredible study Bible also makes it the perfect gift to share with any student or pastor.
In hundreds of articles and notes interspersed within the text of the new Modern English Version of this Bible, you will find: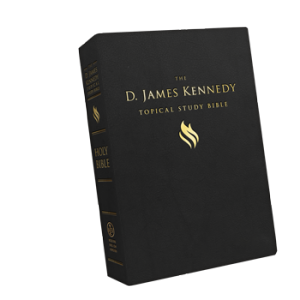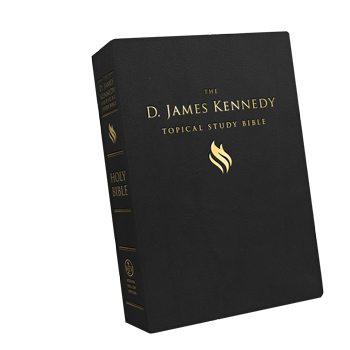 the most wide-ranging collection of Dr. Kennedy's wealth of wisdom available in any one volume
a comprehensive easy-to-use index directing you to notes on key topical themes
notes and comments drawn from the thousands of messages delivered over the course of Dr. Kennedy's nearly fifty years of Bible study and ministry
answers to questions like: Does the Bible teach socialism? Do Christians, Muslims, and Jews worship the same God? Is civil disobedience ever justified? Is the theory of a "Just War" a biblical concept? Does the Bible speak to the question of gender identity?
For your generous donation of $75 or more, you can receive your own personal copy of the D. James Kennedy Topical Study Bible. 
We trust that Dr. Kennedy's collection of timeless wisdom and personal insight in this study Bible will not only enhance your walk with God, but will further equip you to meet the desperate need for the Gospel in our world today.
Your donation helps us continue to teach and nurture the followers of Jesus and help them to grow in grace and in service to Christ and His Church. Thank you!