Spiritual powers are at work in the world. It is easy for us to lose sight of this reality or to sensationalize it based on what we see in the movies. But the truth is, there is a spiritual war going on around us every day, and it is absolutely essential that Christians be aware and informed about the Spiritual forces at work in the world.
Demons are fallen angels who were cast out of heaven when they rebelled against God. They use deception and destruction in seeking to bring dishonor to God, while angels are God's servants and messengers who seek to bring Him glory. We cannot ignore the reality of these spiritual beings and the war they are waging—but neither should we have an unhealthy preoccupation with them.
That's why we're offering the set Angels & Demons: God's Messengers and Their Evil
Counterparts, a unique collection of messages from Dr. D. James Kennedy. In these messages, Dr. Kennedy provides a clear, biblical understanding of these spiritual powers.
In this illuminating four-DVD set and accompanying book of messages (which features a bonus message not contained on the DVDs), Dr. Kennedy takes an in-depth look at this fascinating topic, including:
Expanding on the nature of these spiritual forces, both angelic and demonic
Exposing Satan's methods and purposes and revealing his origin, nature, and limitations
Explaining why people turn to the occult and seek demonic power.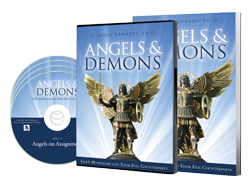 Most importantly, this series examines how God is the One who exercises authority over His creation—even the parts of His creation that we cannot see. The truth that Jesus came to destroy Satan and his works is boldly proclaimed.
Allow us to send you this fascinating set of messages—the book plus 4-DVDs—as our thanks for your generous donation of $50 or more. Or, if you just want the book, we'll send it to you as our thank you gift for your generous donation of any amount.
Your support helps us teach and nurture the followers of Christ providing resources with a biblical perspective so they can understand and respond to today's crucial issues. Thank you!
We are sorry but this promotion is no longer available.
You will be redirected in a few seconds. If the redirect does not work, please click here